Presentation
The FG Wilson PowerWizard range of digital control panels, combine straightforward menu navigation with advanced metering and protection technology. They are used in automatic mains failure applications in conjunction with transfer panels.
Our PowerWizard range allows you to monitor and control your generator set with ease, whilst ensuring your unit operates within safe parameters and provides important diagnostic information when needed.
Benefits
Robust electronics package for industry leading reliability
Single menu layout for ease of navigation and monitoring
with shortcut keys for immediate access to engine or AC metering
10.5-32V DC providing a single module to cover the whole FG Wilson generator set range
Comprehensive range of standard features and options to ensure the most appropriate configuration for your needs
Serviced using standard EST
Features
True RMS Voltage Sensing
CAN 1 Data Link for communication to electronic engines, CAN 2 (2.1 only) Accessory Data Link for additional modules
40 unique events log configuration including first, last and number of occurances and real time clock
Engine and AC Monitoring
Two display languages (Customer Language & Technician Language)
Up to 5 spare fault channels
Configurable sender input
Dedicated key to reset all faults and main menu short cut key
Run/Auto/Stop keys with LED indicators
Integrated metering and controls reducing components and wiring, aiding reliability and ease of service
Generator set voltage and over / under frequency protection (1.1+ and 2.1 only)
MODBUS connection to building management system via RS485 (2.1 only)
Power metering (2.1 only)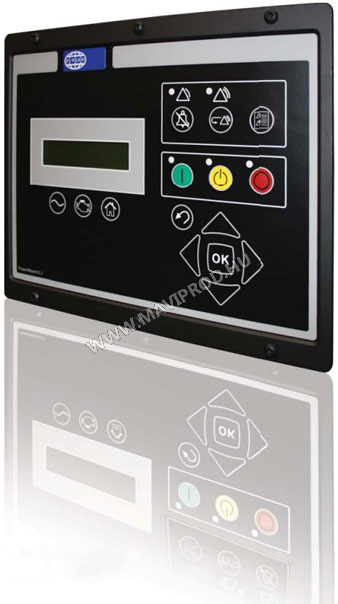 Note:
– FG Wilson PowerWizard 1.1+ is standard on 275 – 2500 kVA generator sets range.
FG100
DSE4520
DSE7320
DSE7410
DSE7420
PW1.1
PW 1.1+
PW 2.1
PW2.1+
MRS16
IG200
EG2500
Control Function
Auto Start
Auto Mains Failure
Auto Mains Failure
Auto Start
Auto Mains Failure
Auto Start
Auto Start
Auto Start
Auto Start
Auto Start
Sync
Sync
I/O
Digital Inputs
6
4
8
8
8
4
6
6
6
7
8
10
Dedicated E'stop Input
x
x

✓

✓

✓

✓

✓

✓

✓

x

✓

x
Digital Outputs
5
4*
6
6
6
6
6
8
8
6
8
11
Dedicated Fuel And Crank O/Ps
x

✓

✓

✓

✓

x
x
x
x
x
x
x
Analog Input
3
3
6
6
6
2
3
3
3
4
4
4
Mpu Input
x
x

✓

✓

✓

✓

✓

✓

✓

✓**

✓

✓

Rs232
x
x

✓

✓

✓

x
x
x
x
Option
Option
x
Rs485 Modbus
Option
x

✓

✓

✓

x
x

✓

✓

Option

✓

✓

Can Bus Engine

✓

✓

✓

✓

✓

✓

✓

✓

✓

✓

✓

✓

2Nd Can Bus
x
x
x

✓

✓

x
x

✓

✓

x

✓

✓

USB

✓

✓

✓

✓

✓

x
x
x
x

✓

✓

x
Ethernet
x
x
x

✓

✓

x
x
x
x
Option
x
x
SNMP
x
x
x

✓

✓

x
x
x
x

✓

✓

x
Power Measurement
kW

✓

✓

✓

✓

✓

x
x

✓

✓

✓

✓

✓

kVA

✓

✓

✓

✓

✓

x
x

✓

✓

✓

✓

✓

kVAr

✓

✓

✓

✓

✓

x
x

✓

✓

✓

✓

✓

pf

✓

✓

✓

✓

✓

x
x

✓

✓

✓

✓

✓

kWh
x

✓

✓

✓

✓

x
x

✓

✓

✓

✓

✓

kVAh
x

✓

✓

✓

✓

x
x

✓

✓

✓

✓

✓

kVArh
x

✓

✓

✓

✓

x
x

✓

✓

✓

✓

✓

Event Recording And Plc Function
Real Time Clock

✓

✓

✓

✓

✓

x
x

✓

✓

✓

✓

✓

Event Log
400
50
250
250
250
40***
40***
40***
40***
350
350
300
Plc Capability
x
x

✓

✓

✓

x
x
x

✓

✓

✓

✓
* 2 are used if in Auto Mains Failure configuration
** Consumes 1 Analogue input
*** Has 40 event slots each of which can record up to 40 instances of an event