Presentation
The easYgen-2500 is a generator set-to-set controller for paralleling and load sharing applications of up to 16 generator sets. A special feature of the easYgen-2500 is the enhanced load sharing system. This provides advanced generator load dependent start / stop functionality with automatic generator set selection to ensure optimal system efficiency.
Benefits
Capable of set-to-set synchronising for up to 16 generator sets
User friendly interface
Easy system navigation via programmable soft keys
Multiple communication protocols for communication with
Engine Control Units (ECUs), external I/O boards, PLCs and modems
Multilingual capability: English, Chinese, French, German, Italian, Japanese, Polish, Portuguese, Russian, Spanish and Turkish
Capable of working with all common industrial interfaces
Features
Power and reactive power load sharing up to 16 units including load-dependent start / stop
Engine start / stop and generator set measuring and protection
Running hours balancing
Breaker control: synchronization, open-close control, only-open control, breaker monitoring
Dead bus closure negotiation
PLC-like programming with Logics Manager
300-entry, time and date stamp log
Operating hours / start / maintenance counters
Configurable trip levels / delays / alarm classes
Field configurable application settings
Multi-level password protection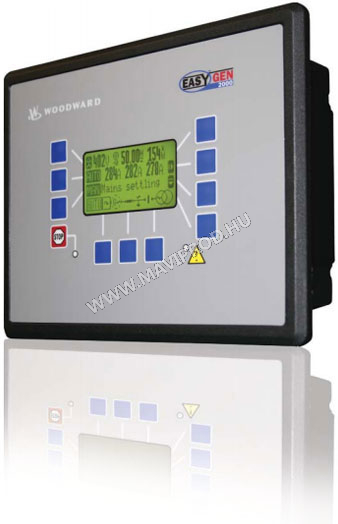 Protection
Generator Set
Over / under voltage
Over / under frequency
Dead bus detection
Overload
Reverse / reduced power
Time over current
Instantaneous over current
Inverse time over current
Phase rotation
Unbalanced load
Power factor
Engine
Engine
Over / under speed
Battery over / under voltage
Speed / frequency mismatch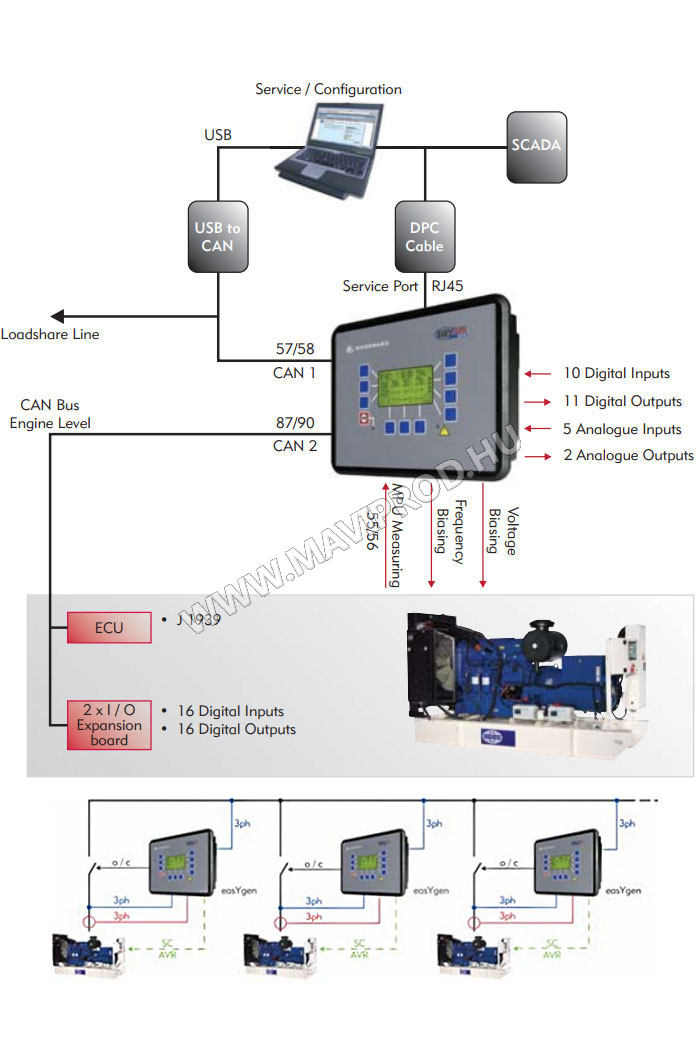 Note:
– FG Wilson PowerWizard 1.1+ is standard on 275 – 2500 kVA generator sets range.
Optional features
NetBiter FGW200
Remote management for new and existing generator set installations.
With software designed exclusively for FG Wilson, the FGW200 offers new opportunities for remote access over the internet and mobile phone. The NetBiter unit is suitable for use in new and existing installations due to control panel Auto Detect software which offers plug and play capability.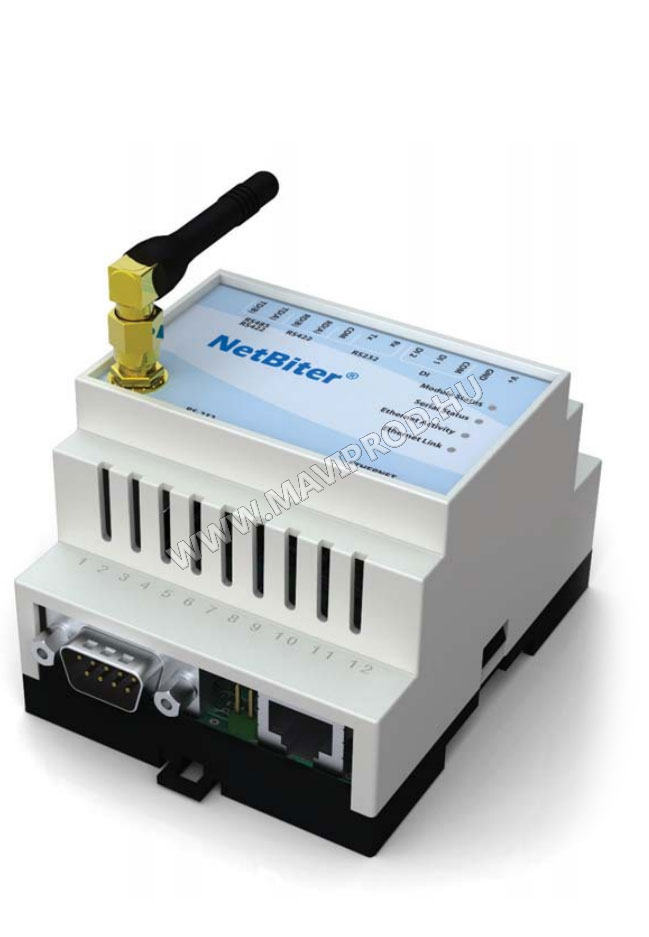 Remote management at a new level
Reducing the need to travel to remote sites for maintenance purposes
Minimising downtime with instant information about equipment health
Theft prevention through generator set tracking
Fuel level monitoring to optimise fuel inventory
Start up logging to help prevent generator set misuse
Allowing multiple project and device management through NetBiter.net
Features
New Auto Detect software allows retrofit to PowerWizard 2.1, easYgen-2500, easYgen-3200 control panels and ATI transfer panels
Built in web interface for data monitoring
Built in alarm manager for SMS, email and SNMP
Built in data logger of historical trends
GSM / GPRS modem included
All software included, easily upgraded remotely and provided with no licensing cost
---
I/O Expansion Module†
Connection to and from external system devices enabling more flexibility to meet your specfic power requirements.
Features
8 configurable discrete alarm inputs
8 configurable relay outputs
Connection to easYgen control panel via CAN bus
Input and output configuration via onboard easYgen relay manager
Remote control of output relays via CAN bus
The I/O Expansion Module can be used with other manufacturer's controls. Consult Woodward product manual 37135 for information regarding the address assignments of the CAN bus interface
Note:
– Aviable through Power Solutions
†
FG100
DSE4520
DSE7320
DSE7410
DSE7420
PW1.1
PW 1.1+
PW 2.1
PW2.1+
MRS16
IG200
EG2500
Control Function
Auto Start
Auto Mains Failure
Auto Mains Failure
Auto Start
Auto Mains Failure
Auto Start
Auto Start
Auto Start
Auto Start
Auto Start
Sync
Sync
I/O
Digital Inputs
6
4
8
8
8
4
6
6
6
7
8
10
Dedicated E'stop Input
x
x

✓

✓

✓

✓

✓

✓

✓

x

✓

x
Digital Outputs
5
4*
6
6
6
6
6
8
8
6
8
11
Dedicated Fuel And
Crank O/Ps
x

✓

✓

✓

✓

x
x
x
x
x
x
x
Analog Input
3
3
6
6
6
2
3
3
3
4
4
4
Mpu Input
x
x

✓

✓

✓

✓

✓

✓

✓

✓**

✓

✓

Rs232
x
x

✓

✓

✓

x
x
x
x
Option
Option
x
Rs485 Modbus
Option
x

✓

✓

✓

x
x

✓

✓

Option

✓

✓

Can Bus Engine

✓

✓

✓

✓

✓

✓

✓

✓

✓

✓

✓

✓

2Nd Can Bus
x
x
x

✓

✓

x
x

✓

✓

x

✓

✓

USB

✓

✓

✓

✓

✓

x
x
x
x

✓

✓

x
Ethernet
x
x
x

✓

✓

x
x
x
x
Option
x
x
SNMP
x
x
x

✓

✓

x
x
x
x

✓

✓

x
Power Measurement
kW

✓

✓

✓

✓

✓

x
x

✓

✓

✓

✓

✓

kVA

✓

✓

✓

✓

✓

x
x

✓

✓

✓

✓

✓

kVAr

✓

✓

✓

✓

✓

x
x

✓

✓

✓

✓

✓

pf

✓

✓

✓

✓

✓

x
x

✓

✓

✓

✓

✓

kWh
x

✓

✓

✓

✓

x
x

✓

✓

✓

✓

✓

kVAh
x

✓

✓

✓

✓

x
x

✓

✓

✓

✓

✓

kVArh
x

✓

✓

✓

✓

x
x

✓

✓

✓

✓

✓

Event Recording And Plc Function
Real Time Clock

✓

✓

✓

✓

✓

x
x

✓

✓

✓

✓

✓

Event Log
400
50
250
250
250
40***
40***
40***
40***
350
350
300
Plc Capability
x
x

✓

✓

✓

x
x
x

✓

✓

✓

✓
* 2 are used if in Auto Mains Failure configuration
** Consumes 1 Analogue input
*** Has 40 event slots each of which can record up to 40 instances of an event