CTI Load transfer control panels
CTI Load transfer control panels
Presentation
The FG Wilson Load Transfer Panel range offers an electronically controlled response to power outages. With flexible, upgradeable options and a high level of functionality FG Wilson transfer panels provide 24-hour automatic control of standby generator sets, 365 days a year.
Benefits
Fully automatic mains failure sensing and generator set start signal
Pre-programmed enabling the panel to run on installation with the ability to customise if necessary
Fast acting switches reduce transfer times between set and utility power
Available from 63 – 160A
Seamless integration with FG Wilson digital control panels
Features
Automatic and manual operation
Automatically provides generator set start signal upon detection of mains failure, overvoltage or loss of phase
Automatic mains re-transfer function
Flexible, upgradeable options
Test operations and sequences accessible from panel or remotely
Manual switch operation possible via external handle
LED functions display showing generator set / mains availability and switch position
LCD display for voltage and timers
Load transfer panel range meets ATS IEC 60947-6-1 standard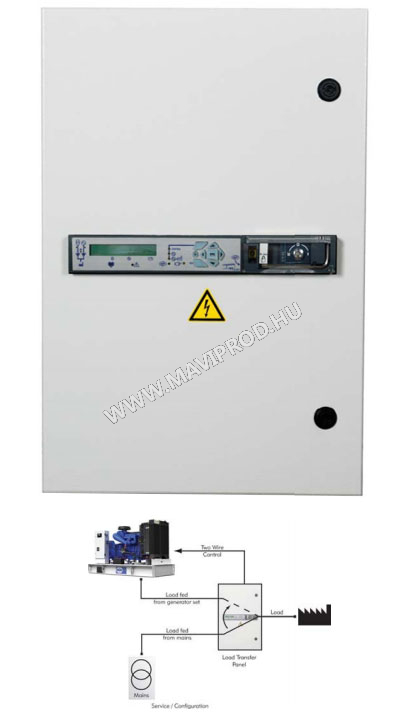 Main features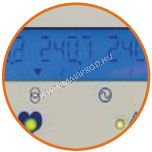 Programmable Countdown Timers
Set routine times for delay on starts, delay on transfer, delay on re-transfer and run on timer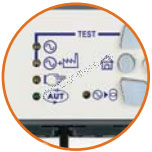 Auto/Manual/Test Mode Status Indication
Allows on/off load tests at routine service checks.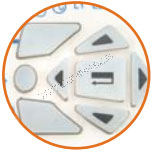 Keypad
For straightforward programming and testing. Password protection is included.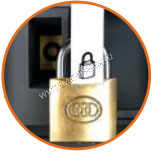 Padlockable
Switch can be padlocked in all three positions for added security and safety. Only possible in manual operation mode.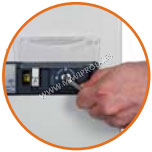 Manual Handle
Fully integrated handle for manual operation.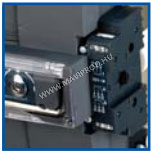 Auxiliary Contacts
Auxiliary/volt free contacts for remotely monitoring the switch position.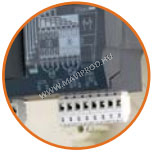 Control Terminals
Generator set remote start signal and terminals for remotely monitoring the system.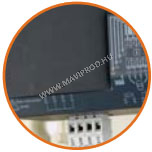 Auxiliary Controls
Auxiliary inputs for automatic control, remote test on load and manual re-transfer.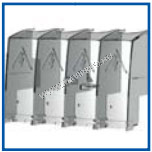 Terminal shroud
For added protection.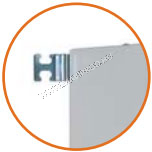 Wall Mounting Kit
Panel can be wall mounted for greater flexibility in positioning.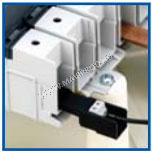 Voltage Sensing Tap
Allows for pole voltage sensing.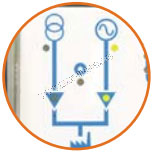 System Status Indicators
Shows status of utility power, generator set and switch at all times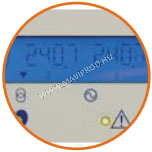 LCD Display
Shows detailed status of system at all times for greater awareness and control.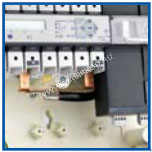 Solid Neutral Kit
Allows the connection of neutral cables from utility power, generator set and load without having the neutral broken by the switch during transfer operations.
Note:
– Standard features are marked with circle

and optional features are marked with square

.
FEATURES AND OPTIONS
CTI
ATI < 1600A
ATI > 2000A
Motorised Mechanically Held Switch
Facility for manual changeover
Yes
Yes
Yes
Protection
Utlity power available
Yes
Yes
Yes
Utility power on load
Yes
Yes
Yes
Generator available / Generator on load
Yes
Yes
Yes
Utility power and generator off load
Yes
Yes
Yes
Manual mode / Automatic mode
Yes
Yes
Yes
Test on load / Test off load
Yes
Yes
Yes
Manual re-transfer for enabled / required
Yes
Yes
Yes
Power / Error indication (LED)
Yes
Yes
Yes
Facia
Universal symbols to
allow for multiple languages
Yes
Yes
Yes
Liquid Crystal Display
Utility Power L1-2, L1-3, L2-3 voltage
Yes
Yes
Yes
Utility Power L1-N, L2-N, L3-N voltage
Yes
Yes
Yes
Generator Set L1-N, L2-N, L3-N voltage
Yes
Yes
Yes
Generator Set L1-2, L1-3, L2-3 voltage
Yes
Yes
Yes
Utility Power Frequency / Generator Set Frequency
Yes
Yes
Yes
Number of times switch transfers
from mains to generator set
Yes
Yes
Yes
Timer settings
Yes
Yes
Yes
Standards
Complete enclosure meets
standard IEC 60947-6-1
Yes
Yes
Yes
Swith meets standard AC31B
Yes
Yes
Yes
Controls
Under / Over frequency failure
Yes
Yes
Yes
Under / Over frequency restoration
Yes
Yes
Yes
Manual / Auto re-transfer
Yes
Yes
Yes
Mode select push button
Yes
Yes
Yes
Under / Over Volts Failure
Yes
Yes
Yes
Under / Over Volts Restoration
Yes
Yes
Yes
Delay on Start Timer
Yes
Yes
Yes
Delay on Transfer
Yes
Yes
Yes
Delay on Re-Transfer
Yes
Yes
Yes
Dead Band Timer
Yes
Yes
Yes
Run On Timer
Yes
Yes
Yes
Auto / Manual Control Keyswitch
Yes
Yes
Yes
Lamp Test Pushbutton
Yes
Yes
Yes
Padlock facility
Yes
Yes
Yes
Selection between Contactor
or Switch Mode
Yes
No
No
Cable entry
Top
Yes
No
No
Bottom
Yes
Yes
Yes
Load Terminal Extensions
Improving ease of installation
Optional
No
No
Auxiliary Contacts
For monitoring of switch position
(Including padlocking & auto / manual)
No
Yes
Yes
Lightning Protection
Ensuring the safety of system during
lightning storms
Optional
Optional
Optional
Ingress Protection IP54
Protection for control module
Optional
Optional
Yes
Power Metering
To measure load current, kW, kVAr, kVA,
Power factor
No
Yes
No
Volt Free Cotacts
For utility power availability &
generator available
Yes
Optional
Optional
Communication Module
Plug in module that uses Jbus/modbus protocol
to allow remote communication of the change
over system
No
Optional
Optional
Voltage Sensing Tap
Allowing for pole voltage sensing
Optional
No
No
Solid Neutral Kit
To connect neutral cables from the mains,
generator set and load
Optional
Optional
No
Terminal Shroud
For added protection
Optional
No
No